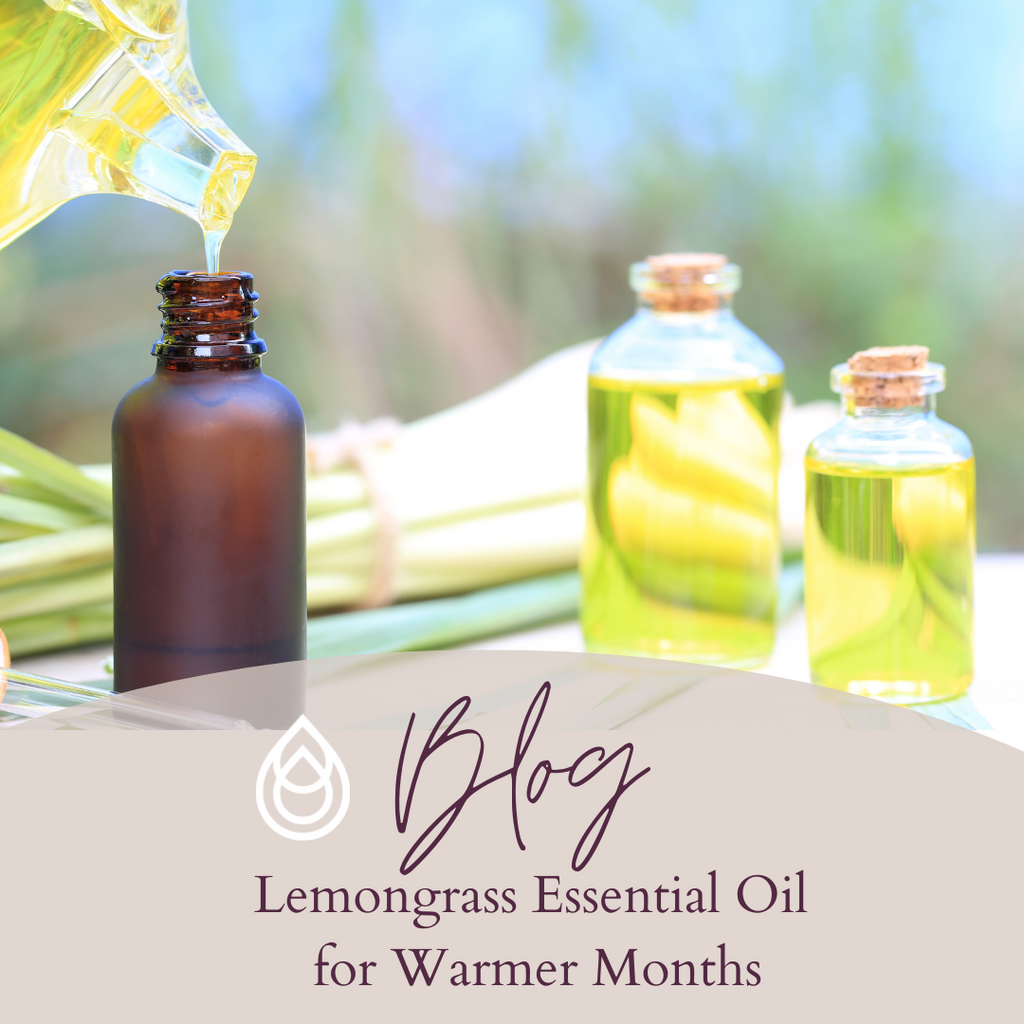 Summer-light aromas on a cool breeze are indicative of the coming season. And even as the weather starts to warm up this spring, you may be thinking about spending more time outdoors. Unfortunately, so do those pesky bugs! And perhaps increased exercise might lead to more aches and pains than you are used to, putting a temporary stop to outdoor adventures.
But don't let these potential, seasonal niggles put you off from enjoying the season ahead! Refresh your outdoor space, and soothe aching limbs this season with the grassy, lemony notes of summer – and an essential oil called lemongrass (Cymbopogon citratus).
Keeping it in the Family with Lemongrass
Lemongrass essential oil's aroma might be familiar to you as its more pungent botanical cousin, citronella (Cymbopogon nardus) essential oil, has traditionally been used as an insect repellent in many store-bought products for years. However, lemongrass – and its more rosy botanical cousin palmarosa (Cymbopogon martinii) – have less overpowering aromas, making them both more pleasant to use!
Lemongrass essential oil has a crisp, grassy, lemony aroma, extremely reminiscent of lazy, summer days! Imagine lying in the grass, eyes towards the sunny sky, and inhaling the seasonal aromas.
In contrast, another of lemongrass essential oil's aromatic cousins, vetiver (Vetiveria zizaniodes), is deep and earthy, best suited to autumn and winter blends (see our blog on that too).
Benefits of Lemongrass for Aromatherapy
Lemongrass essential oil is particularly suited to the warmer months. Let's take a look at how it can help you this season!
Benefits of lemongrass in aromatherapy include:
Insect Repellent: If you are a bug magnet in the warmer months, lemongrass essential oil is your friend. The main constituent of this essential oil is citral, disliked by summer bugs far and wide.
Muscular Aches and Pains: Lemongrass essential oil can help to soothe away the discomfort of muscle pain, often associated with over-exercising as it warms up.
Oily Skin and Scalp: This is a great oil to use if your skin and scalp are prone to oiliness, acne, and excessive perspiration.
Stress and Headaches: The light aroma of lemongrass essential oil helps ease away the stresses of the day and relieves tension headaches.
How We Use Lemongrass Essential Oil
Lemongrass continues to be one of our most popular essential oils with our clients as a single essential oil. This essential oil is one of the best mixers and blends well with a number of essential oils (see our recommendations below).
How to Use Lemongrass Essential Oil
These are some of our favorite ways to use lemongrass essential oil for the warmer months:
Dilution Rate: Add 12 drops of essential oil (total) to 1-oz. of base blend for a 2% dilution rate.
Cautions for Use: Avoid the use of lemongrass essential oil in pregnancy. Skin-sensitive individuals should use with caution due to possible skin irritation. Avoid use with children under 10 years of age. Check contra-indications for other essential oils mentioned in this article before use.
Experience Lemongrass with Your Body Needs
We are more than happy to help you experience lemongrass this season! If we haven't answered your questions in this article, give us a call. The grassy, lemony notes of summer await you!