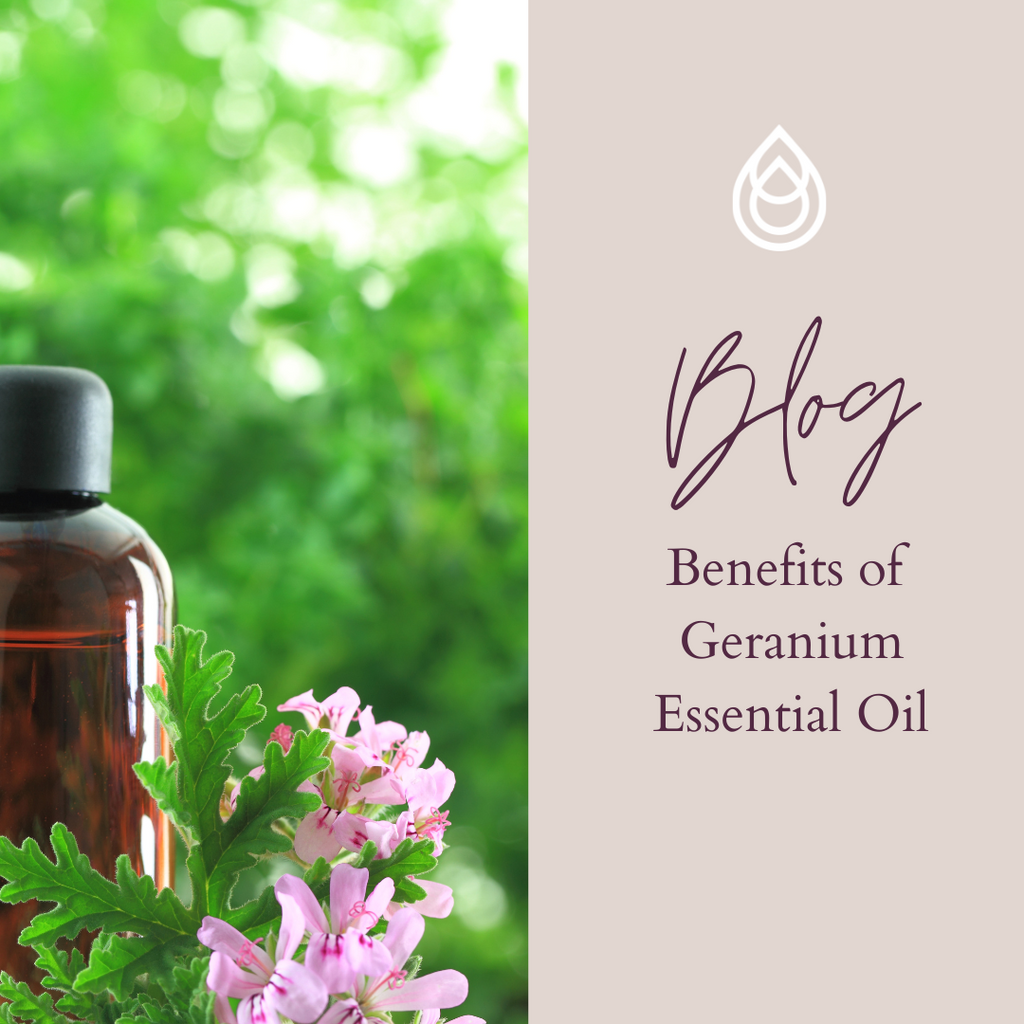 There is one essential oil that we consider a "must-have" as an aromatherapist. It is balancing, versatile, "plays well with others," and a great aromatic enhancement for many skincare blends and treatments. It is soft, seductive, and often mistaken for its more expensive cousin.
You might be thinking lavender (Lavandula angustifolia) – but you'd be incorrect! This little gem is geranium (Pelargonium graveolens) essential oil.  At a fraction of the cost of the undisputed queen of flowers – rose (Rosa spp.) – and with a similar, rosy aroma, geranium essential oil is one of our favorites! Let's find out why.
The Story of Geranium
Geranium hails from the warm shores of Africa, initially South Africa, and then moving through Egypt, Morocco, Algeria. It began to pop up in French Réunion when its viability as an essential oil became noticed. However, Grasse, France – recognized as the perfume capital of the world – rightly was the first place that geranium was cultivated as an essential oil, more than 200 years ago.
Since then, geranium has been cross-examined and hybridized multiple times to produce show-stopping flowers of various colors and shapes. But it's the leaves of geranium which emit the essential oil and heady scent coveted by aromatherapists. Its rosy, sweet scent hangs in the air of a summer evening, inviting you in. Its exact aroma (just like rose) can vary depending on growing region and species, with hints of mint, lemon, and herb as popular undertones.
Benefits of Geranium for Aromatherapy
Geranium essential oil, again like rose, is popular with the ladies for some very good reasons. It is also great for skincare and one of the best balancing essential oils around. Let's break that down further:
Skincare: Oily, dry, mature and combination skin all benefit from the addition of geranium essential oil in a blend! Wounds, bruises, acne, burns, and eczema also heal from the use of geranium oil.
Balancing: Whether physical or emotional, geranium essential oil can help to alleviate anxiety, stress, and nervous conditions, in addition to stabilizing the body's equilibrium (see below).
Women's Health: From PMS to menopause, geranium essential oil can help to make a "bad" day good again. Ask us how we know!
How We Use Geranium Essential Oil
We use geranium essential oil in-house with many clients in massage, facials, and in skincare blends. It has been a key ingredient in our geranium and sweet orange (Citrus sinensis) massage blend since 2010. It helps to enhance holistic facials. And our popular Keep on Balancing face oil is balanced out with geranium, lavender, and rosemary (Rosmarinus officinalis) essential oils.
How to Use Geranium Essential Oil
Geranium essential oil is extremely versatile but here's a few ideas to get you started on the benefits of using geranium:
Skincare: For a balanced skincare routine, tone with either geranium or rose hydrosol after washing your face, and follow up with our Keep on Balancing face oil.
Anxiety and Stress: Combine geranium essential oil with bergamot essential oil and chamomile essential oil, and add to an aromatherapy diffuser, according to the aromatherapy manufacturer's guidelines. Diffuse for periods of no longer than twenty minutes at a time. Make sure that the space is well ventilated. Care should be taken when diffusing around pets, babies, young children, women in pregnancy, and any other vulnerable populations.
PMS: Combine geranium with clary sage and rose essential oil in a base such as jojoba oil. Massage gently, in a clockwise direction over the abdomen as needed. Keep dilution rate at 2% (12 drops of essential oil to one ounce of base oil).
Cautions for Use: Geranium essential oil may irritate sensitive skin, so use in low dilution and discontinue use if irritation occurs. Avoid use in early pregnancy. Check contra-indications for other essential oils mentioned in this article before use.
Experience Geranium with Your Body Needs
If you need some balance in your life (or with your skin), give this rosy-scented favorite a try! We'd be happy to show you how if you need further advice. Just give us a call!