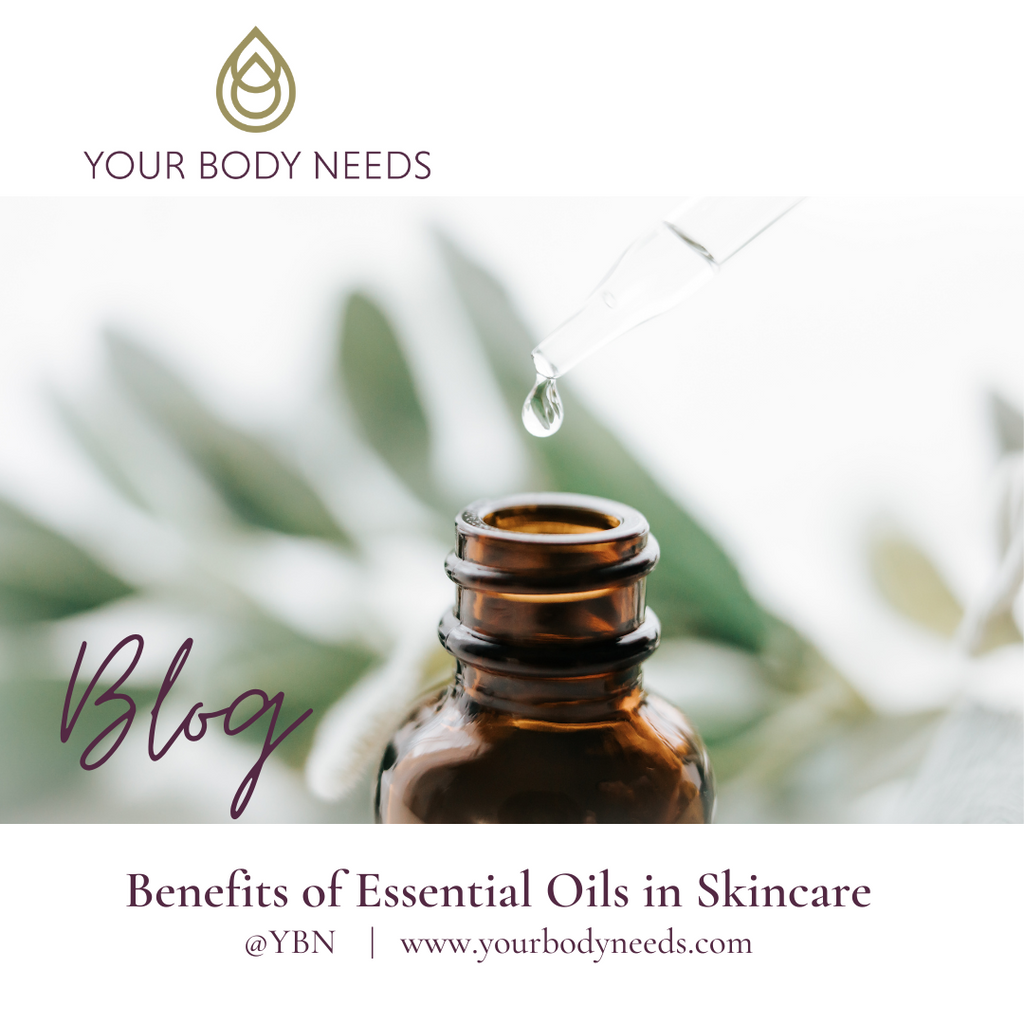 Why do we use essential oils in skincare? What do they add to the mix, and do they really make our skin brighter, healthier, and smoother? You might be surprised at some of the benefits of using essential oils in skincare! Here's a rundown of our top three essential oils for skincare, why we use them, and a pro tip on an extra (and often forgotten) benefit!
Why Use Essential Oils for Skincare?
The benefits of using essential oils in skincare are many. Essential oils are the à la carte to your basic skincare routine – plus they smell amazing! Here's our top reasons for using essential oils for skincare:
Essential oil molecules are small enough to penetrate to the deepest layers of the epidermis to where the skin cells regenerate (see our article on How to Exfoliate Your Skin Naturally) to learn more about skin cell removal).
Essential oils stimulate and regenerate skin cells to help smooth out and nurture small wounds, burns, and sun damaged skin back to its best self.
Essential oils help reduce bacterial and fungal infections such as acne.
Essential oils help to soothe sensitive skin.
Essential oils help to prevent skin aging.
Essential oils provide antioxidants to the skin.
PRO TIP: Essential oils also help your emotional well-being. So, not only will your skin look and feel great or emotional self will improve, too!
Rose Essential Oil for Skincare
*Our Personal Recommendation*
Rose (Rosa spp.) essential oil is the mother of all skin-care essential oils. I mean, who doesn't love rose?!
Rose was one of my very first oils I ever owned. At the time it was considered one of the essentials you needed in your tool kit. I cannot explain why but rose essential oil has a way of soothing an aching heart. I have been in treatment rooms where the need to center a client was necessary. I have witnessed people immediately experience a sense of calm, peace, acceptance. And, every time, at the end of the session the client's face is luminous. Again, I cannot explain it, I can only share my experience. There is a reason why rose essential oil, and the hydrosol, are often the star ingredients in beauty products.
Rose essential oil can be used for all skin types, but I usually reserve its use for mature and aging skin to help revitalize and regenerate skin cells. Just make sure that the rose essential oil that you purchase is the best quality. Although an expensive oil, do not skimp on the quality of this oil! You will most likely be disappointed and/or purchase an inferior product. You can always use just one drop of the essential oil in combination with rosehip (Rosa canina L.) oil or jojoba (Simmondsia chinensis). Your skin will feel tight and luminous within a couple of days!
Tea Tree Essential Oil for Skincare
The best way to use tea tree (Melaleuca alternifolia) essential oil is with problem skin where you need to reduce infections and increase antibacterial activity. It is excellent for oily and acneic skin. Tea tree essential oil can also have a tightening effect on the skin.
A great habit to get into is to fill your bathroom basin with warm water and add 3 drops of tea tree essential oil. Swirl around and place a face cloth in the water. Wring it out and immediately place the warm towel over your face. This is an excellent cleansing routine. Your skin will feel clean, refreshed, and tight!
Jasmine Essential Oil for Skincare
Jasmine (Jasminum spp.) essential oil is a powerhouse of an oil for skincare. However, consider jasmine essential oil's therapeutic benefits vs its psychological benefits before using it. Notice how you feel when you smell the essential oil. It is also a great essential oil to use with dry skin.
In my experience, jasmine essential oil can revitalize aging skin and it can help slow down the signs of aging. It is invaluable to me when I am treating clients with rosacea. I blend jasmine essential oil with Roman chamomile essential oil in my treatment room and the results are always breathtaking.
PRO TIP: Over the years, I have noticed a correlation between essential oil viscosity and its skin type benefits. The thicker, more viscous essential oils like jasmine, sandalwood, vetiver, ylang ylang and rose essential oils are excellent for dry skin and mature skin. The less viscous oils are more suited for normal to oily skin.
Frankincense Essential Oil for Skincare
Frankincense (Boswellia carteri) essential oil is such a useful oil to have in your massage therapist's treatment room. It has a calming and soothing effect mainly due to its solid anti-inflammatory properties. You can use frankincense essential oil for many skin conditions including congested, oily, blemished, ageing and combination.
Another bonus: Frankincense essential oil is excellent for opening up the respiratory system. So, if you apply it to your face, you'll probably experience a satisfying all over healthy feeling!
Frankincense essential oil is rooted in centuries-old traditions and is not the first oil that younger people tend to pick for troubled skin. However, combined with tea tree (Melaleuca alternifolia), lemon (Citrus × limon), or clary sage (Salvia sclarea) essential oils, it can be a great essential oil in a blend for skin issues which plague the young.
PRO TIP: Blend 1 to 2 drops of frankincense essential oil with rosehip oil to address younger people's skincare issues.
That being said, frankincense essential oil is featured in our best-selling blend of Fifty is the New Thirty which addresses many issues in mature skincare, so it really is a flexible oil!
Essential Oils for Skincare
Although there are many other essential oils that you can use for skincare, this article gives you an insight into some of the essential oils we use in our own practice and why. If one of these essential oils has piqued your interest, head on over to our website and check them out!