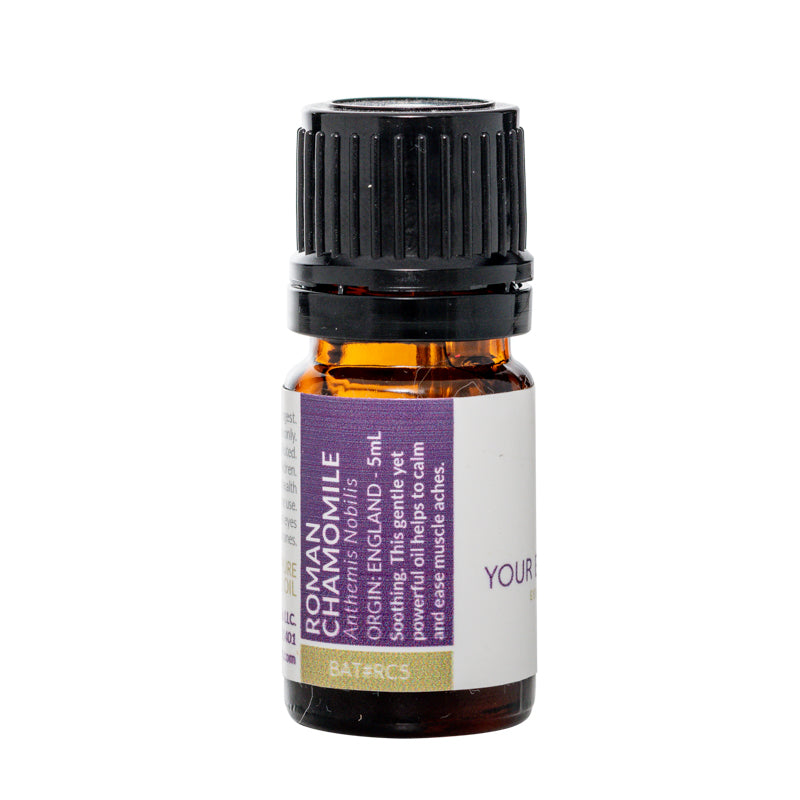 Anthemis nobilis (England)
Sourced from England, this Roman Chamomile is truly divine. This 5ml bottle is 100% pure. (not diluted in jojoba).
Botanical Source: 
Flowers, England.
Why Chamomile Roman essential oil is GREAT:
Chamomile is a treasured oil! It will calm your tethered spirits and promote restful sleep. It is gentle enough to calm your nerves and  your sore muscles. Roman Chamomile's aroma is divine. It is suited for all skin types especially sensitive and inflamed conditions such as redness and itching.  Roman Chamomile has a calming, soothing effect on the mind and body. Blend with lavender and clarysage for a restful night's sleep, or lavender and orange to balance stress.
How We Use It!
In our studio Roman Chamomile is blended with Lavender to create our Chamomile and Lavender massage oil blend. This blend has helped countless enhance their massage experience  while relieving muscle aches and pain. It has been on our menu since 2010.

Roman Chamomile is an all-star ingredient in one of our biggest selling items Hand and Foot Cream This item is one of the first products we ever began selling!
Roman Chamomile is also a featured ingredient in our Serenity Now synergy blend.
Roman Chamomile essential oil is also used in our holistic facials. We use it as aroma enhancing in our compresses and to calm inflammation, skin redness or dry skin.

This oil can be used in a diffuser and topically when diluted. If you are interested in this oil but not sure how to use it at home we will be happy to help you. Give us a call.  
Blends Well With:
Clary Sage, Ginger, Lavender, Lemon, Sweet Orange, Peppermint.

Fragrance:
A warm, sweet and fruity herbaceous aroma.
Cautions: None Known