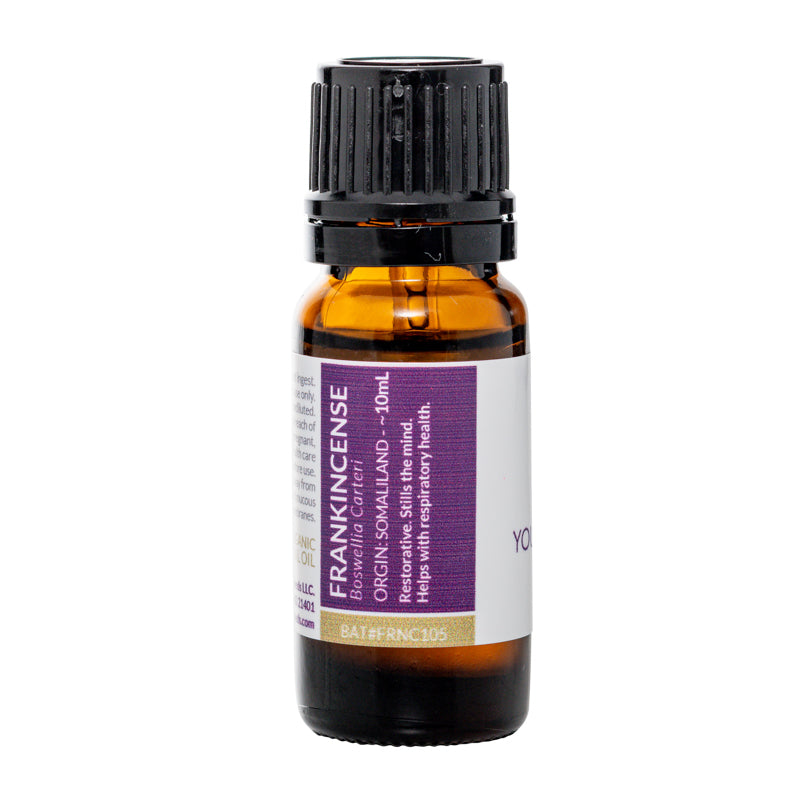 Boswellia carteri, Organic
Botanical Source: 
Country of Origin: Somaliland
Botanical Source: Resin from bark, organic
Why Frankincense essential oil is GREAT!

Frankincense has so many glorious talents. A wonderful oil that soothes the soul. It helps deepen breath and has an amazing capacity to still the mind. This is why it is a perfect oil for meditation. 
Frankincense may help with breath. Like eucalyptus, it may aid breaking down mucus buildup making it a good oil to have on hand in the winter season. 

Used in skin-care, Frankincense is restorative for aging skin. 
How We Use It!
In our studio Frankincense has been one of the key essential oils in our Total Calm blend during massages. This blend has helped countless enhance their massage experience and has been a mainstay blend since 2010. Frankincense is also an ingredient in our ever popular CBD massage blend.
We also want to provide the very best of to our customers and this is why we added Frankincense to our All Clear synergy blend - not the cheapest of oils but we do not cut corners when it comes to quality.

Frankincense  essential oil is also used in our holistic facials. We use it to help rejuvenate aging and wrinkled skin, breakouts and is a great astringent. Our Frankincense Hydrosol instantly brightens the skin! Frankincense is an ingredient in our moisturizing face oil Fifty Is The New Thirty.

Frankincense  oil can be used in a diffuser and topically when diluted. If you are interested in this oil but not sure how to use it at home we will be happy to help you. Give us a call.  
Blends Well With: 
Clary Sage, Geranium, Lavender, Lemon, Neroli, Orange, Rose, Sandalwood, Ylang Ylang
Fragrance:
Base note;  An uplifting and fresh aroma. It becomes warmer as it evaporates. Very grounding and peaceful.
Cautions: none known