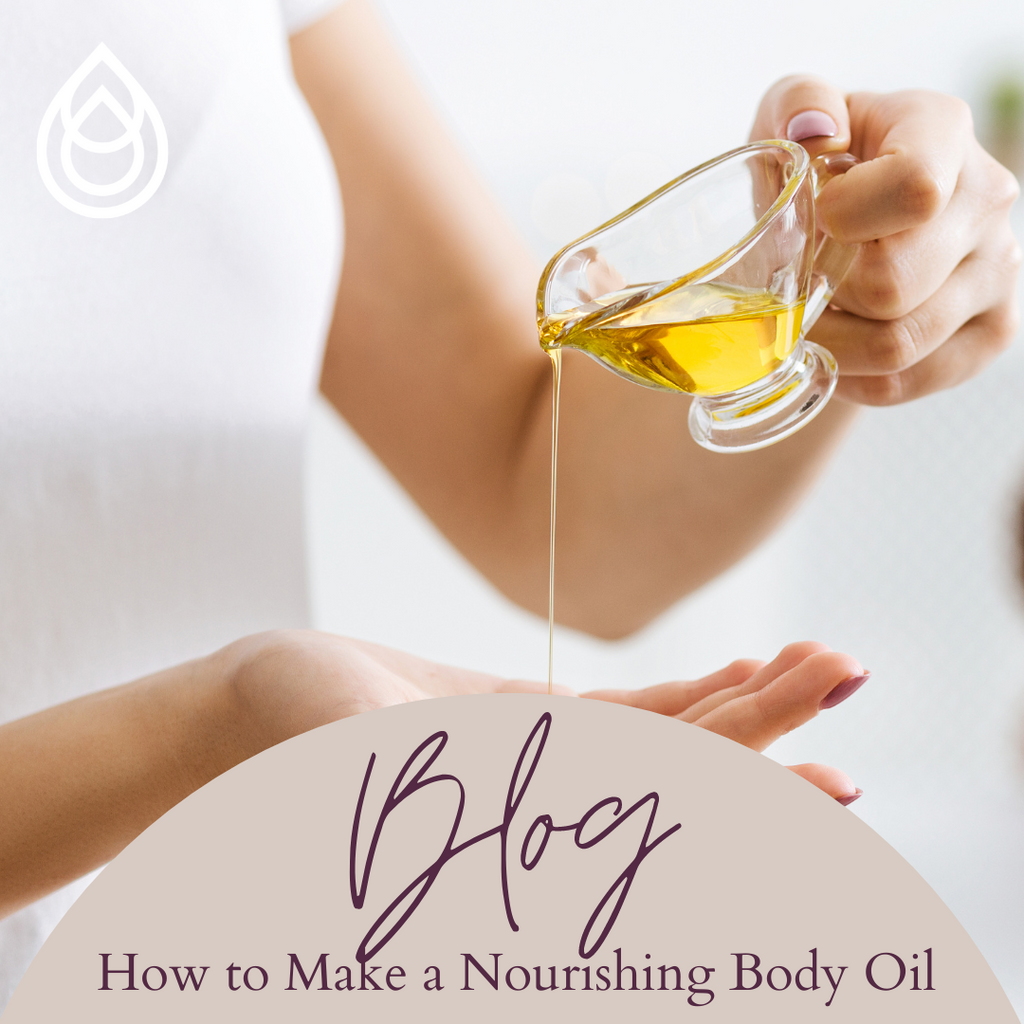 As the cold weather starts to wrap its frosty fingers around our bodies, thoughts of nourishing body oils spring to mind. Body oils made with aromatherapy ingredients are some of the best out there for your skin – without the high price tag that you often find on popular big-store brands. And with just a few simple, but nourishing, ingredients, you can make your own aromatherapy body oil at home!
We'll teach you how to do just that in this blog and, if you're not up for creating it yourself, pop into our webstore for some custom-made aromatherapy oils that your body is going to love this winter!
Why You Need a Nourishing Oil for Colder Weather
Cold weather can do a number on your skin if you don't protect it. From dry indoor heat to long hot baths, to warming showers, your skin takes a beating physically. And outside elements contribute to lack of skin moisture as well – windy days, frosty nights, and even snowman building all play a part in winter skin damage. You may find that itchy, flaky skin conditions flare up such as eczema and dermatitis. Not fun at all.
Best Oils for a Nourishing Body Oil
Some of the best nourishing oils to make a body oil are not the most expensive out there, despite advertising to the contrary! Body oils are made from cold-pressed carrier oils which are extracted from the nuts or seeds of plants, and packed full of beneficial nutrients such as vitamins, omega-3 and omega-6 fatty acids, and other types of fatty acids which all nourish and moisturize your skin.
Our favorite oil at Your Body Needs for a body oil is jojoba (Simmondsia chinensis). Let's talk about why.
Benefits of Jojoba as a Body Oil
Jojoba is a great base as a body oil. Here's some of its benefits and then we'll fill you in on the "why:"
Nourishing
Emollient
Toning
Regenerative
Noncomedogenic.
Because jojoba has some of the same waxy ester chemical components as sebum (produced by your skin), it is the perfect partner for your skin. It helps to maintain moisture in your skin but protects it with its oily layer, yet doesn't clog pores, and allows the sebaceous glands to do their job efficiently. Jojoba assists the acid mantle in your skin against predators and anything that might knock your skin off-balance. Jojoba is essentially your skin's best friend when it comes to a nourishing body oil!
How to Make an Aromatherapy Body Oil
Making a basic body oil at home is easy. Add in your favorite essential oils and you have a product to rival some of the top-branded (and priced) oils at a fraction of the cost!
To make a simple body oil at home you'll need a pump bottle. We suggest starting with an 8-oz. bottle for all-over body use. Then follow our example base recipe below:
To Make: Add the jojoba to the pump bottle. Cap and label.
To Use: Pump the body oil a couple of times into your hand, and massage liberally over your body after a warm bath or shower. Use daily for winter care.
If you want to add in essential oils, we recommend adding no more than 12 drops per one ounce for adult use. If you prefer a floral aroma, why not add essential oils such as lavender (Lavandula angustifolia), geranium, (Pelargonium graveolens), or jasmine (Jasminum officinale)? Or perhaps spicy is what you prefer, such as ginger (Zingiber officinale), rosemary (Salvia rosmarinus), or even vetiver (Vetiveria zizaniodes) for a smoky, woody aroma. Pay attention to specific cautions to use for each oil including:
Rosemary (Salvia rosmarinus): Avoid in pregnancy, with high blood pressure, and epilepsy
Jasmine (Jasminium officinale): Avoid in pregnancy.
Nourishing Oils at YBN
If you don't want to make your own nourishing oil, or you simply don't have the time, we've got you covered! Our Classic Blend Body Oil is packed with jojoba and sweet almond oils, with lavender (Lavandula angustifolia) essential oil, too! Pop on over to the webstore to pick up your bottle. Your skin will simply love you ❤
Have skincare questions? We are happy to help! Just reach out to us or visit our FAQ page for answers to general questions.