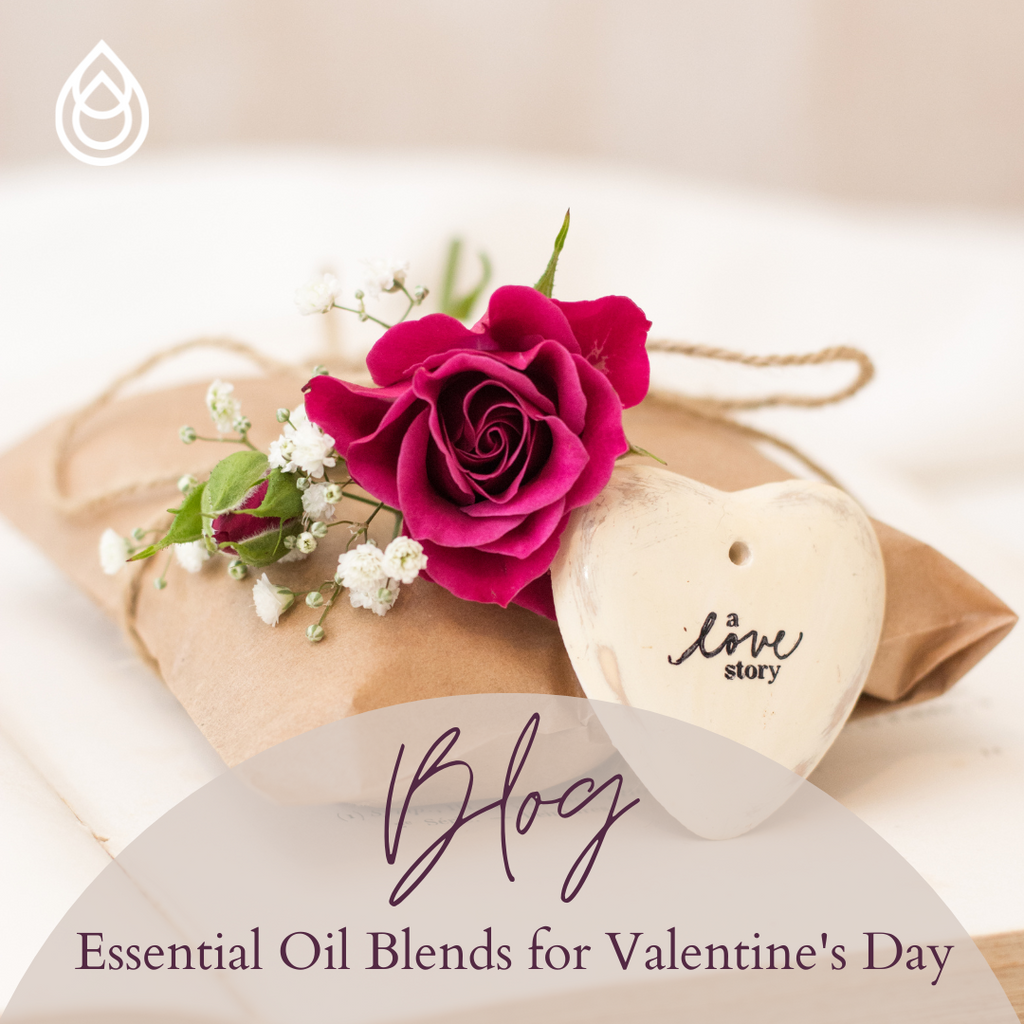 Flowers are abundant on Valentine's Day, especially red roses, but there's something even more romantically inclined than those beautiful blooms. Scent. More specifically, essential oils.
This Valentine's Day, take a moment to indulge in the scentual delights that these therapeutic oils can offer and the different ways in which you can entice your honey. Here's how!
Essential Oils for Love
How can essential oils be used to promote the mood for love? Some essential oils are believed to be aphrodisiac. Aphrodisiac means that something causes excitement or stimulates a sexual desire. Is it any surprise that the very flowers that are often given on Valentine's Day have a matching essential oil which promotes aphrodisiac tendencies? Flowers such as rose (Rosa spp.), and jasmine (Jasminium spp.), are central to aphrodisiac essential oil blends. But there are a few lesser known oils that blend perfectly with these popular scents.
Valentine Essential Oil Blends
We're going to take a look at some of our favorite essential oil blends for Valentine's Day – and give you some ideas on how to use them!
At the top of our list, rose is intimately paired with sandalwood, and geranium. Why?
Rose (Rosa damascena) essential oil: Rose is the quintessential romantic. For centuries, it has represented love, and even among flower species is known as the "queen." Rose essential oil is a chameleon when it comes to scent. It can be spicy, floral, heady, fruity, citrus-y – almost anything that you want it to be! Rosa damscena essential oil is warm, floral, and a little musky. It provides the perfect base to a romantic essential oil blend.
Sandalwood (Santalum album) essential oil: Sandalwood lends a deep, soft, woody note to a Valentine's Day essential oil blend. It is a calming aroma, deafening any fears you have, and allowing you to relax and enjoy the moment. It's no surprise that this oil has been used for centuries in meditation practice.
Geranium (Pelargonium graveolens) essential oil: Geranium is a middle note essential oil, with a lighter, balancing rosy, yet leafy aroma. It helps bring together the two deeper, base notes in this essential oil blend for a floral-woody aroma.
Our next recommended essential oil blend for Valentine's Day is composed of ylang ylang, sweet orange, and jasmine. Here's why:
Ylang ylang (Cananga odorata) essential oil: Exotic ylang ylang brings a tropical feel with a twist to the blending table. Ylang ylang essential oil is a confident aroma of flowers and tropical fruit, which can be intoxicating and overpowering if used in large quantities. However, use wisely and it will calm and delight your Valentine date!
Sweet orange (Citrus sinensis) essential oil: The sweet, citrus aroma of sweet orange will uplift and bring out the child you, counteracting the heaviness of ylang ylang essential oil in this romantic blend. Sweet orange loves a party, so pop this blend in the diffuser to get your Valentine's Day party started.
Jasmine (Jasminum grandiflorum) essential oil: The king of the flowers, jasmine essential oil is bold, and wows on first impressions. You might almost call this scent sassy, as it instills confidence and optimism, from the get-go, leaving you heady and giddy as a schoolgirl, if not used with restraint. Paired with ylang ylang, sweet orange is the modifier in bringing this essential oil blend in line to be a great Valentine's blend for a gathering.
Our final essential oil blend choice for Valentine's Day includes neroli, sweet orange, and clove essential oils. Citrus and spice merge in a familiar feel for a blend which makes you feel right at home for a romantic night in:
Neroli (Citrus aurantium var. amara (flos)) essential oil: Neroli essential oil is intoxicating, floral, deep, and a little slice of orange heaven. The flowers were used on bridal crowns for centuries, as it helped quell those first night wedding nerves. Breathe deep, and be prepared to swept off your feet!
Sweet orange (Citrus sinensis) essential oil: If the aroma of neroli sends you to heaven, top note sweet orange will make sure that you don't drown too deeply, allowing you to enjoy what the night has to offer.
Clove (Syzygium aromaticum) essential oil: Balancing out a perfect blend of top, middle, and base note oils, spicy clove seals the sweetness of this formulation with its jaunty essence. Add in clove for a familiar feel of romantic togetherness.
How to Use
We recommend using the above blends in an aromatherapy diffuser or in a jojoba-based body oil for a romantic night in. However, take note of the following:
Always diffuse in a well-ventilated space and be aware of other people's possible contra-indications including diffusing around babies and children, pregnant women, seniors, and people with certain medical conditions. Diffuse for periods of twenty minutes or less before taking a break.
Keep dilutions low. Use 2% dilution rate or less for topical applications.
Do not apply topically in intimate areas due to possible skin irritation and inflammation.
Spicy essential oils like clove may cause skin irritation and mucous membrane irritation. Use in low dilution.
Romantic Essential Oil Blends
Essential oils can help to scent a beautiful Valentine's Day date, dinner, party, or night in! Just remember to use responsibly! Pick up everything you need over in our webstore.
Got questions? Give us a call!