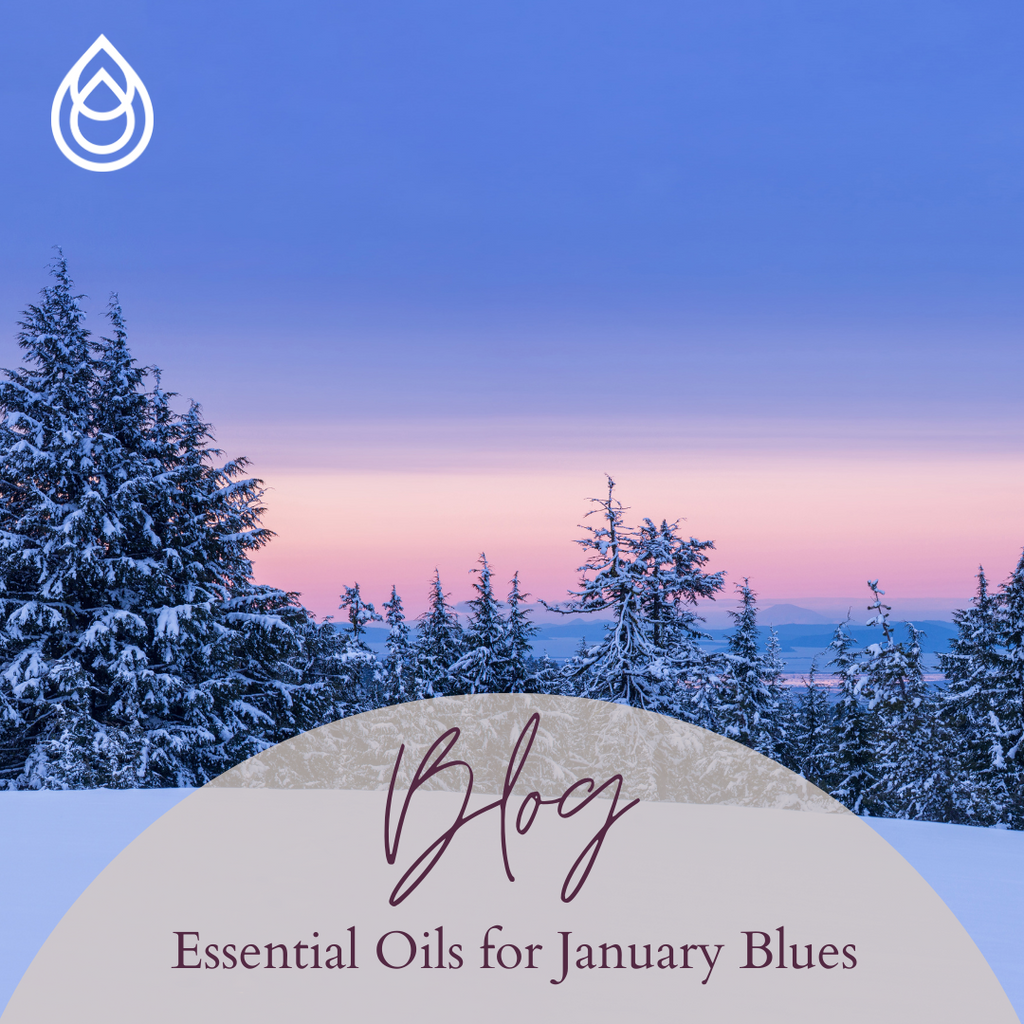 The holiday season is over, you've welcomed January in with new year celebrations, and – now what? That long, cold, dark month of January stretches ahead. Spring seems so far away, yet you've got to get through these next couple of months to reach the sunshine.
Depression, anxiety, and seasonal affective disorder (SAD) are common at this time of year, whether it's the dark winter nights or the overstretched credit cards from holiday spending that have given the January blues. Read on to learn how – and which—essential oils can banish the blues and look forward to the lighter days ahead.
January Blues and How to Avoid Them
Do you think you suffer with the January Blues? If you feel tired, exhausted, down in the dumps, and ready to break into tears, it could be a sign of the January Blues. January Blues identify with depression, anxiety, and SAD too, so check with a medical professional if the feelings don't go away.
But in general, the January Blues can be dealt with a healthy daily routine of exercise, a balanced diet, good sleep hygiene, and daylight exposure. In addition, using some of the most uplifting essential oils can help, too. Here's how.
Sweet Orange Essential Oil for January Blues
Sweet orange (Citrus sinensis) has to be one the best essential oils to balance mood and make you think of sunny days ahead! Think of shady citrus groves, bursting with orange fruit (even the color starts to make you feel happy!) under a sun-laden summer sky. Breathe in the sweet, juicy, fresh, citrus aroma and you'll understand why this oil is nicknamed the "happy oil" – and why children are drawn to its aroma. It tends to bring out the childlike wonder in you!
How You Can Use It for the January Blues: We recommend diffusing sweet orange essential oil in an aromatherapy diffuser for maximum benefit within your home. Just remember to check with other occupants (pets, seniors, babies, and children) before diffusing and remember to diffuse for intermittent periods of about 30 minutes before taking a break. Always diffuse in a large, well, ventilated space, too.
How We Use It: We use sweet orange essential oil with geranium (Pelargonium graveolens) essential oil in a massage blend with clients. Ask us for more details!
Sweet orange essential oil also combines well with clary sage (Salvia sclarea) essential oil.
Clary Sage Essential Oil for January Blues
Clary sage (Salvia sclarea) essential oil is an excellent oil for balancing your mind and lifting your spirits. Its aroma is a little unusual with a sweet, herbaceous, even nutty aroma. It is reminiscent of spring herbs, so it is a great oil to start envisioning the brighter days ahead. It also blends very well with sweet orange essential oil and peppermint (Mentha × piperita) essential oil.
How You Can Use It for the January Blues: Clary sage is another excellent oil for diffusing, especially if you combine it with other essential oils to get an even more alluring aroma. It is often recommended by aromatherapists for use with depression and stress with excellent results.
How We Use It: Clary sage essential oil is added to our Peace Stick and Serenity Now products. Need we say more?! The product names' speak for themselves.
Cautions for Using Clary Sage Essential Oil: Avoid use if pregnant. Also, it may induce a narcotic effect, so use in moderation.
Peppermint Essential Oil for January Blues
Our third essential oil which we recommend for beating the January Blues is peppermint (Mentha × piperita) essential oil. Peppermint packs a punch when it comes to being refreshed, awake, and revitalized. If you've inhaled the fresh, minty aroma of this herb and essential oil, you'll know exactly what we're talking about. Peppermint is most certainly not the party pooper with its powerful presence and unabashed pizazz.
How You Can Use It for the January Blues: Diffuse peppermint oil in an aromatherapy diffuser but only in small amounts. A little goes a long way. Also, be careful about diffusing this particular essential oil around pets, babies, and children. The cooling aroma of peppermint oil can lift you up in a short space of time.
How We Use It: We use peppermint oil in our pain and immune support blends in-house, but its piercing aroma also revitalizes – both therapist and client.
Cautions for Using Peppermint Essential Oil: Avoid use in pregnancy. Do not use around babies and children under seven years of age. If using topically (always diluted in a blend), watch for possible skin irritation.
Banish January Blues with the Use of Essential Oils
Sweet orange, clary sage, and peppermint essential oils are just three essential oils that we recommend using to banish January Blues. Their combined fresh, punchy, alluring aromas are enough to pick you up and carry you through the final months of winter, when used regularly as part of your winter wellness routine.
Give us a call if you want more advice!