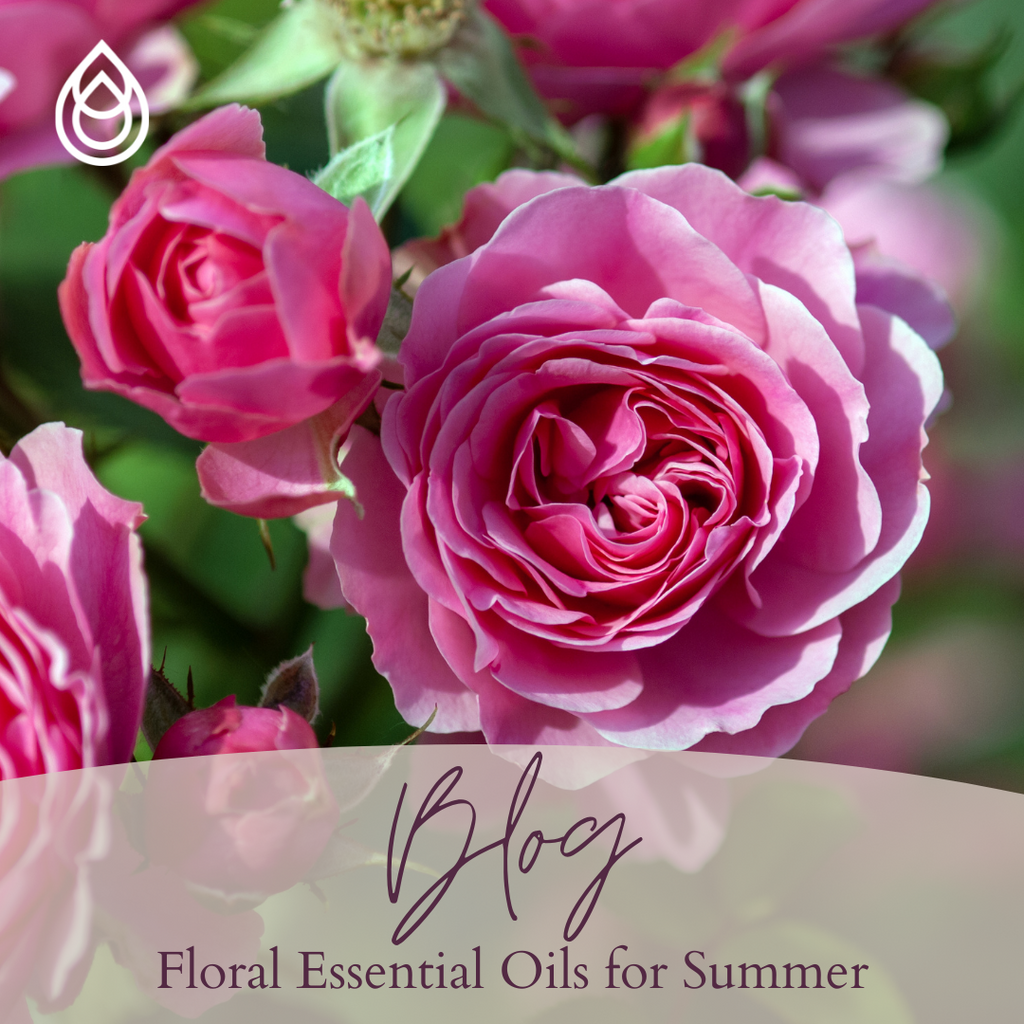 Summer is filled with all sorts of beautiful scents! As you spend more time outdoors in sun, sand, or mountain (depending on your location), your nose is often invigorated by flower, fruit, and tree, wafting down on the breeze. Smell is such a strong sense, so much so that you can carry your summer memories with you, through the imprint of the scents that you encounter along the way.
Some of our favorite summer scents are the deeply hypnotic florals such as rose (Rosa spp.), jasmine (Jasminum spp.) and ylang ylang (Cananga odorata), reminding us of summer gardens and far-flung vacation spots. And we love to combine these aromas with the citrus delights of lemon (Citrus × limon) or sweet orange (Citrus sinensis). Yum. Smells absolutely delish!
We share the benefits of these essential oils with you in this blog and how you can combine them to enjoy your favorite floral oils of summer well into the fall months!
Rose Floral Oil for Summer
Rose (Rosa spp.) needs absolutely no introduction! Rose gardens flourish in the summertime, in a thousand different colors and aromas. Our preferred essential oil at Your Body Needs is Rosa damascena. It is the classic of rose essential oils with a beautiful, full bodied, warm, floral aroma.
Rose essential oil is a favorite ingredient for body care products and creams due to its suitability for all skin types, and its ability to calm, soothe, ease headaches, and even boost romance!
Jasmine Floral Oil for Summer
Jasmine (Jasminum spp.) mirrors rose's power in both its deep aroma and therapeutic benefits. It too has a strong, heady aroma when encountered in the garden, and its essential oil is no exception. Our jasmine (Jasminum grandiflorum) essential oil is wonderful in all types of skincare products, and can help to soothe anxiety as well. It is especially beneficial for dry and tired skin conditions. An added bonus is that jasmine oil promotes confidence and optimism, so this is a great oil to have around for summer fun!
Ylang Ylang Floral Oil for Summer
If you vacation in tropical climes, you might have come across the exotic floral beauty known as ylang ylang (Cananga odorata). Its large, fragrant, drooping, yellow flowers exude exoticness, much like its essential oil.
Ylang ylang essential oil has a unique aroma which is both deeply floral with a hint of the tropics. It calms and delights with just one drop. And you can't help but fall in love with it – and from it!
Floral Essential Oil Blends for Summer
With strongly powerful essential oils, it is difficult to sometimes know how to use them in an essential oil blend. The star itself is floral and can dominate competing essential oils. However, just like summer itself, florals can be edged out with citrus oils, taking down a sharp bite, to a rounded blend of summer!
We recommend keeping floral oils discussed in this blog to around 2% of the total blend.
Here's some of our favorite essential oil blend suggestions:
Cautions for Use with Floral Oils
Floral essential oils (rose, jasmine and ylang ylang), specifically mentioned in this blog, are generally safe to use with all age groups and conditions with the following exceptions. Ylang ylang essential oil may cause headaches and/or nausea in high dilutions. Use caution with jasmine essential oil in pregnancy. All essential oils may irritate sensitive skin, so use with caution, and discontinue use if sensitivity occurs. Check contra-indications for other essential oils mentioned in this article before use.
Use no more than 2% dilution of essential oils in general use with adults. Reduce dilution rate to 1% or less for specific health conditions as advised, in pregnancy, with babies and children and any other special circumstances.
How We Use Floral Oils
Wondering how we use floral essential oils at Your Body Needs? We use ylang ylang essential oil in our Total Calm blend for in-house massages, jasmine essential oil for in-house holistic facials, and rose essential oil for in-house holistic facials, and in products such as Fifty is the New Thirty face oil. We also have a beautiful rose hydrosol which makes a calming face mist on a hot summer day!
Floral Oils at Your Body Needs
We love to celebrate summer with floral oils and are happy to show you how! Just give us a call if you need more help.