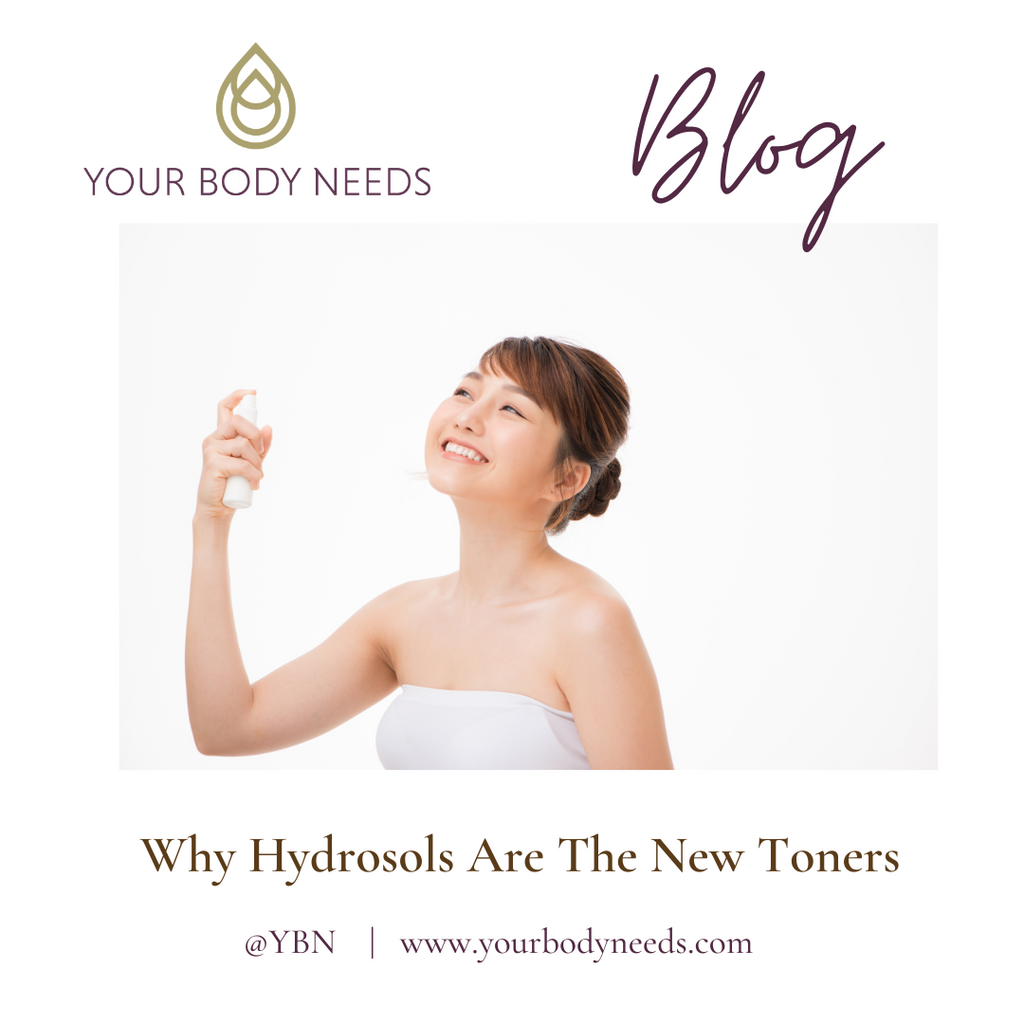 When you think of a facial toner, you immediately think of water. But what if you could use something better than water as a facial toner? Yes, I'm talking about using hydrosols as toners. Hydrosols are the perfect stand-alone toner with tons of benefits! Let's take a look.
Hydrosols as Toners
Firstly, you need to understand what exactly a hydrosol is. Simply put, a hydrosol is the "water element" extracted through the steam distillation process of a plant. However, it is not simply water. It is water plus minute quantities of an essential oil.
The fat-soluble constituents which make up the majority of an essential oil product are counteracted by the water soluble constituents which make up the majority of a hydrosol. Hydrosols are hydrophilic – water loving – and the perfect partner with your face oil. There are absolutely no synthetics in this process – just nature in its purest form!
To end up with the best hydrosols for facial toners out there, you need to start with good quality water, quality plant material, and a skilled artisan distiller who knows what they are doing.
Facial Toners
Now that you understand a little about what a hydrosol is and what the process involves creating a good quality hydrosol, you can start to understand why hydrosols make the perfect stand-alone facial toner.
Hydrosols have different benefits, just like essential oils. So, depending on your skin type, certain hydrosols might be better for you to use than others. Here's an example of some of our favorite hydrosols which you can use as facial toners:
Frankincense (Boswellia carteri) hydrosol: Use with mature skin, fine lines, and blemishes. Frankincense hydrosol can be used to calm skin inflammation and address acne issues.
Lemon tea tree (Leptosperum petersonii) hydrosol: Use with acne, oily, dull, and congested skin. Extremely popular with teens, and a great way to get them started with hydrosols!
Rose (Rosa centifolia) hydrosol: A very versatile (as well as beautiful!) hydrosol which can be used with all skin types, from young to old. Use with sensitive skin, to balance skin, with acne, and with mature skin. I challenge you not to fall in love with rose!
The Benefits of Hydrosols as Toners
To dive in a little deeper with the benefits of hydrosols as toners, take a look at the following statements:
Emotionally balancing. A positive "side effect" of using fragrant hydrosols as toners is the power to balance and uplift your mood.
Skin looks better, feels better, and is simply healthier.
Absolutely no alcohol! Quality hydrosols do not contain drying alcohol, unlike many facial toners.
Hydration, hydration, hydration. Hydrosols hydrate your skin!
Hydrosols can help to balance the pH of your skin. The skin's pH is around 5 to 5.5. The pH of a hydrosol can range from 3.5 to 6, among some of the more popular hydrosols.1
PRO TIP: SPRAY, don't dab your toner for better results!
Why Use Hydrosols as Facial Toners? 
Science recognizes that our skin needs both water and oil to perform at optimal health, Afterall, our skin is made up of approximately 64% water.2 Additionally, sebum, the oily matter produced in the sebaceous glands of the dermis, helps to protect the skin from external bacteria and helps to maintain moisture within the skin.3 Sometimes the skin needs a little extra help to maintain the homeostasis of the skin. 
However, although lotions and creams contain both water and oil, they also contain unnecessary ingredients whose sole purpose is to emulsify and bond these polar opposites. That's why Your Body Needs separates the most important ingredients that your skin needs into water (hydrosols) and oils. 
Hydrosols are perfect toners to use for stage one of this process in hydrating your skin!
References:
Catty, Suzanne, 2001, Hydrosols: The Next Aromatherapy, US: Healing Arts Press
USGS website, The Water in You: Water and the Human Body, accessed from: https://www.usgs.gov/special-topics/water-science-school/science/water-you-water-and-human-body#:~:text=The%20skin%20contains%2064%25%20water,bones%20are%20watery%3A%2031%25.
Medical News Today website, What is Sebum?, accessed from: https://www.medicalnewstoday.com/articles/sebum#What-is-it?