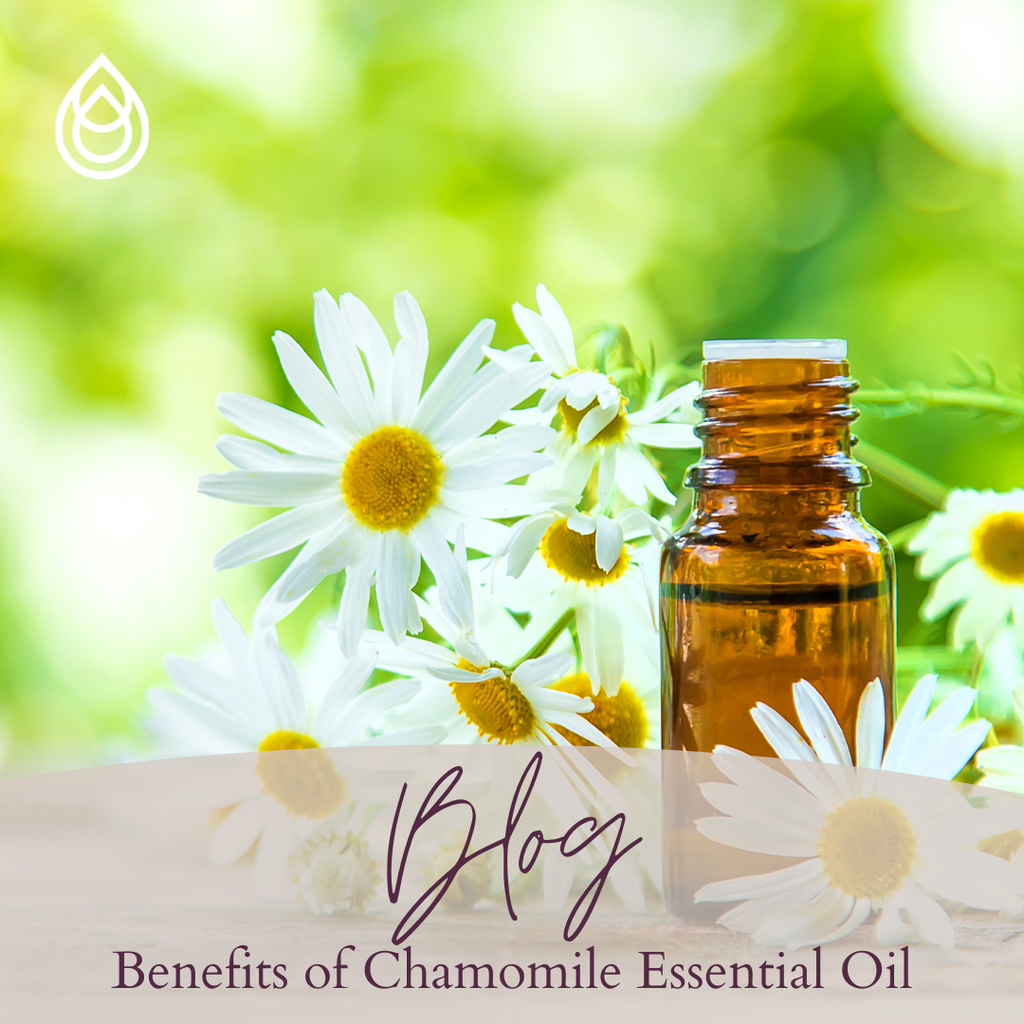 The scent of chamomile instantly transports you to a place of calm, to a place where the worries of the day fade away into the night. Sleep comes easier with chamomile, yet that is not all that this most valued of essential oils can assist. Chamomile essential oil is such a versatile oil that you may question how you managed without it all this time!
Let's look at the benefits of chamomile essential oil and how it can help you with many day-to-day problems.
Types of Chamomile Essential Oil
So, which chamomile essential oil should you choose? Well, there are two types of chamomile essential oil which are regularly used in aromatherapy: Roman chamomile (Chamaemelum nobile) and German chamomile (Matricaria recutica). There is also Moroccan chamomile (Ormenis multicaulis) essential oil, but it is not as closely related as both Roman and German chamomile essential oil.
For clarification, we will be looking at Roman chamomile essential oil in this blog. Roman chamomile essential oil catches your attention with that tell-tale apple-like aroma. German chamomile essential oil flaunts its looks with a vivid blue coloring. That's probably the easiest way to tell these two oils apart.
Benefits of Chamomile Oil
Chamomile is a gentle giant. It's powerful enough to handle all sorts of problems, yet gentle enough for the youngest member of the family. Here's just some of the benefits of chamomile essential oil:
Cares for all types of skin, including sensitive and inflamed.
Burns, cuts, eczema, dermatitis, rashes, wounds – chamomile tackles them all!
Benefits for baby: Chamomile handles teething, colic, and baby skincare problems without missing a beat.
Tackle sore joints, muscles, sprains, arthritis and more with the strength of chamomile behind you.
Stress? Sleepless nights? Headaches? Take a breath with chamomile…
How We Use Chamomile Essential Oil
How we don't we use chamomile here at Your Body Needs might be the shorter answer! We love (and value) chamomile essential oil so much that we use it both in-house and in our aromatherapy products, such as:
How to Use Chamomile Essential Oil
Use chamomile essential oil in an aromatherapy diffuser (according to the manufacturer's instructions) or blended in a base such as jojoba (Simmondsia chinensis) for topical use. Not sure which oils to blend with chamomile? Here's some of our favorite suggestions:
Chamomile, lavender, and clary sage blend perfectly for a good night's sleep.
Blend chamomile, lavender, and sweet orange essential oils for a stress-relieving mix for the diffuser or applied topically (in a diluted blend). If using topically, apply a small amount of the blend to the temples and wrists and inhale as needed.
Blend chamomile, ylang ylang (Cananga odorata), and lemon (Citrus limon) essential oils to address acne and oily skin issues. Great for teenage skin – and smells good, too!
Dilution Rate: Add 12 drops of essential oil (total) to 1-oz. of base blend for a 2% dilution rate. For children (of the appropriate age), half this amount.
Cautions for Use: Roman chamomile essential oil is usually non-irritating and non-toxic for general aromatherapy use when used at the recommended dilution rate. It is usually safe to use with young children and babies, too. However, individual circumstances may differ. Check contra-indications for other essential oils mentioned in this article before use. 
Experience Chamomile with Your Body Needs
Gentle chamomile is a warrior and a superhero when it comes to versatility of use. We love this fruity-herbaceous oil and think that you will, too! Pick up a bottle in-store today or experience chamomile in an in-house spa service. We are happy to guide you with any questions!