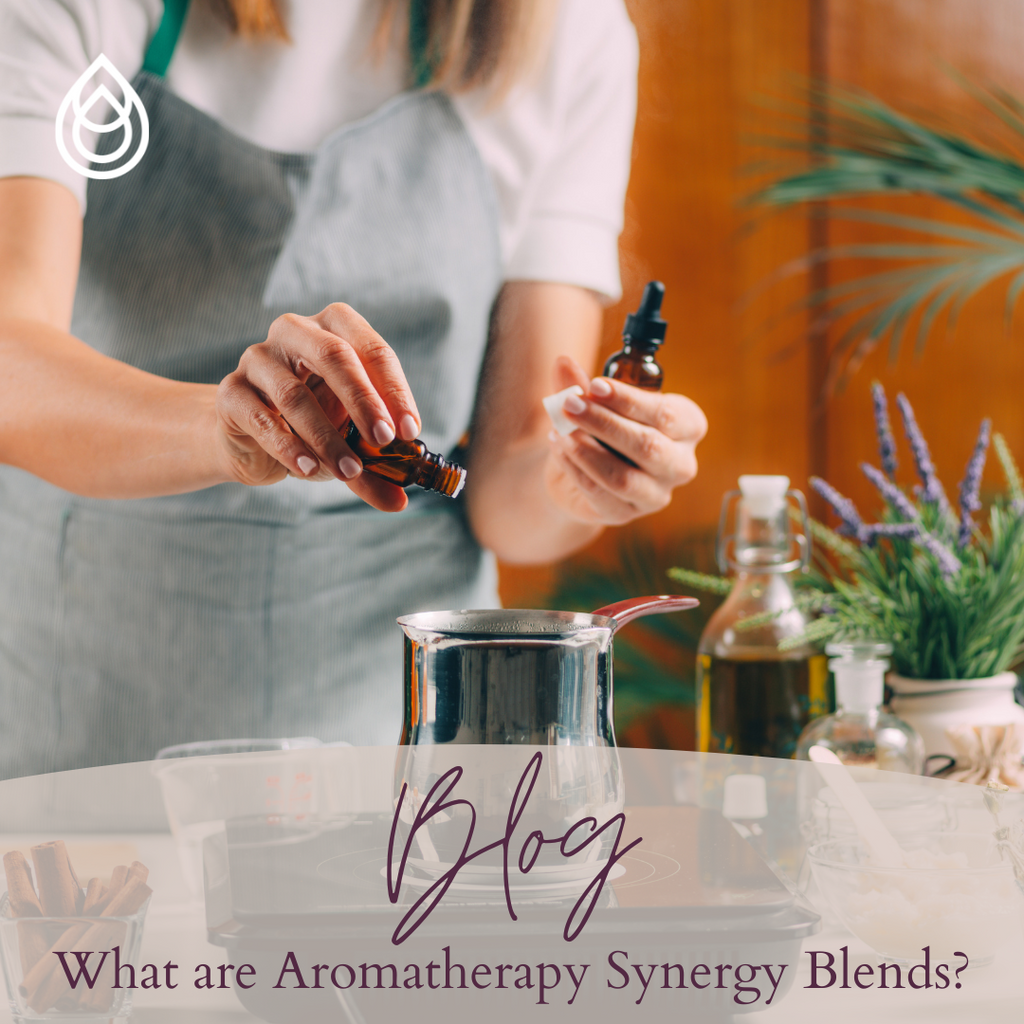 Working together in today's world to produce a better future is now more essential than ever before. And just as working together on a team is beneficial for humans, the same can be said for essential oils.
But how can essential oils work together? And what happens when you combine them in an aromatherapy synergy blend? Let's find out!
What is Aromatherapy Synergy?  
The definition of synergy is usually translated to some version of "the whole is greater than the sum of its parts." In other words, with everyone pulling together, pooling together their skills and expertise, they should produce a final combined outcome that ends up being greater than the sum of their separate effects.
If you apply this definition to essential oils, you come out with a similar result. Yes, lavender (Lavandula angustifolia) essential oil has some very powerful effects on its own. But add in, for example, chamomile (Chamaemelum nobile) essential oil, and suddenly that great night's sleep becomes that extra great night's sleep. Two (or more) are simply better than one.
But how does that work? Essential oils contain a multitude of different chemical components. Each chemical component has been researched and found to work more effectively for some conditions than others. You can check out many research studies completed in this area.
Benefits of Essential Oil Synergy
Aromatherapy synergy blends are carefully thought out with an end goal in mind. This helps to optimize the required result – and gives you that extra great night's sleep, or whatever is your primary concern. Here's why you should be thinking about choosing an essential oil synergy blend:
Synergy blends address one specific issue: For example, promoting sleep, soothing pain, or supporting immunity.
(Good) synergy blends are formulated by an experienced aromatherapist who is educated in which essential oils combine best for the result that you crave.
Synergy blends take the guesswork out of which essential oils to use for a specific problem – when you are not an aromatherapist yourself.
Synergy blends are convenient. It's that simple! You don't have to worry about purchasing a multitude of different essential oils (which you may only use once), think about what to dilute them in, or figure out the ratio. Did we mention it was that simple?
A good synergy blend is powerful and gets straight to the problem. As it is formulated with one goal in mind, you know that it's going to get in and tackle that problem pronto.
Types of Aromatherapy Synergy Blends
At Your Body Needs, we've created four essential oil synergy blends with you in mind! Here's some more information on them:
How to Use Aromatherapy Synergy Blends
Aromatherapy synergy blends can be used in different ways, depending on the goal of the formulation.
For example, our regular All Clear synergy blend is intended to be inhaled by means of an aromatherapy diffuser or by adding a few drops of it to a cosmetic pad or an inhaler. The essential oils are not diluted in this blend and should not be applied topically. However, we also offer a roll-on version of All Clear (diluted in jojoba (Simmondsia chinensis)) that you can use to apply topically to the chest and nasal area.
We offer our synergy blends in the following ways:
Roll-on (intended for topical use): All Clear, Be Strong, Peace Stick.
Undiluted (intended for inhalation): All Clear, Be Strong, Serenity Now.
Experience Aromatherapy Synergy Blends with Your Body Needs
If you have any questions about how to use our aromatherapy synergy blends or are looking for a synergy blend for something else, give us a call! We'd be happy to help.